Here at Locked in Lust we strive to provide all of our customers with a complete and fulfilling chastity experience. We offer much more than an

inescapable chastity

device, we offer accessories and services which will further enhance the enjoyment of your male cock cage. Allowing you to maximize all of the benefits of male chastity you can experience. We are not just a male chastity device company, we are a chastity experience company. One of the most important factors to have a fulfilling male chastity experience is to know what male chastity is, and what the benefits of male chastity are. Whether you just found out about male chastity recently, or you have been in the lifestyle for many years, we recommend taking a look below to educate yourself about male chastity.
What is Male Chastity?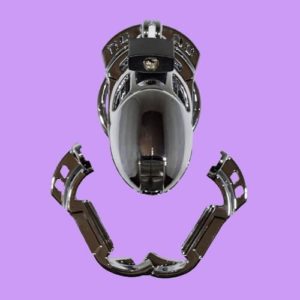 Male chastity is a practice of locking up the male genitalia in a male chastity device (commonly referred to as a male cock cage). The purpose of male chastity in the 21st century is commonly used in BDSM play. In such a scenario the submissive is locked into a male chastity device by the dominant (referred to as a keyholder). The keyholder holds all the keys to the securely fastened male cock cage, and is the only person whom decides when the male cock cage can come off. The length of time is determined by the keyholder, and can vary from a few hours to a 24/7 continual male chastity lifestyle. Submissives and dominants alike enjoy chastity for the surrender/control it offers. The submissive is surrendering their most important organ, and one that can offer the greatest amount of pleasure. While the dominant has full control over said organ during the time spent in the male chastity device. During the time the submissive is in a male cock cage, he is unable to obtain a full erection. The submissive also cannot have an orgasm until the male chastity device comes off. This experience sounds unpleasant; however, it can be extremely pleasurable. When the submissive attempts to become erect while in a male cock cage, he will only swell up inside, which feels like a firm grip. This builds arousal in the submissive, which can continue to build over time. This pent up arousal can even become more intense than the orgasm they so desire. Once the submissive is freed from the male chastity device to have an orgasm, it will be more intense than any other orgasm he has experienced. The longer the submissive is in a male chastity device, the more intense the final orgasm will be.
Why Choose Male Chastity?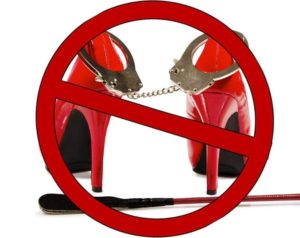 There are many reasons to choose male chastity. Many couples choose chastity to bring each other closer and introduce more intimacy into the bedroom. There are also many couples looking for something new to try. Even couples trying to help their partner fulfill a fantasy of theirs – as chastity is a deeply ingrained fantasy of many. It is also used by strict BDSM couples for control and to further their kinky experience. While a male chastity device sounds far on the scale of kink, it is more common than most would believe. It is often used by more couples whom are not into a BDSM lifestyle, although you will find it in that scene as well. You can see more about the benefits of male chastity below. Locked in Lust offers an excellent introductory device – The Vice – for those new to male chastity. And if you have any additional questions, please feel free to Contact Us directly!
Benefits of Male Chastity
Intimacy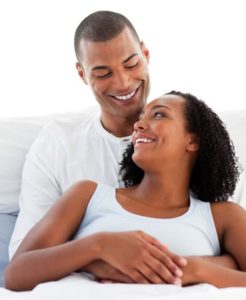 There are many benefits of male chastity. As we touched on earlier, one of the most recognizable benefits of male chastity immediately present is the deeper level of intimacy between couples. However, there are many other benefits of male chastity to be aware of. The first of the benefits of male chastity to be aware of is the submissives behavior shortly after being locked in a male chastity device. The submissive will almost immediately become more attentive to their keyholders' needs. The submissive will offer to do more for their keyholder – whether it be chores, or any other bothersome tasks – and will show more affection toward their keyholder. This effect is usually what ignites the most intimacy between couples, and makes male chastity immediately addicting!
Orgasms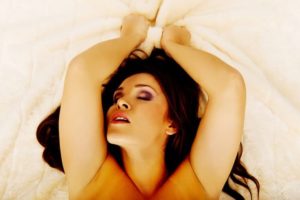 Another one of the benefits of male chastity is that their keyholders' orgasms will become much more frequent… and intense! As the arousal of denial builds in the submissive from being in a male cock cage, he will want to take his sexual frustration out on his keyholder. The submissive will constantly be thinking about sex with their keyholder while in their male chastity device. When any small opportunity presents itself, sparks will fly. Oral skills become noteworthy very quickly, but the submissive can please their keyholder in a number of other ways. Usually with their hands, with toys, or even with a strap on! As time passes and the submissive has built up their frustration in the male chastity device, they will exert more of that sexual energy toward the keyholder. Ultimately giving better and better orgasms the longer they are locked. The orgasms are one the favorite benefits of male chastity shared by submissives and keyholders alike. The submissive enjoys making their keyholder feel good and giving them many orgasms. Submissives especially enjoy giving an orgasm without getting one in return. The keyholder of course gets to enjoy the mind boggling interdimensional orgasms they receive. Before leaving the topic of orgasms, we cannot forget about the submissive in the male chastity device's orgasm. This is probably the greatest of the benefits of male chastity the submissive can look forward to. All the time pent up in denial in their male cock cage causes the skin to be hyper sensitive. This hyper sensitivity feels better than anything they've ever experienced before. When they finally experience an orgasm, it will be single-handedly the best orgasm they've had in their life. And the longer they're in male chastity, the more intense it becomes!
Power/Control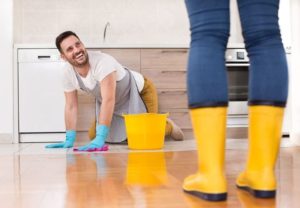 An obvious benefit of chastity described previously is the power it provides the keyholder. There is an undeniable power rush the keyholder receives from being the only person that can unlock the male chastity device on their submissive. The submissive cannot even get an erection without the aid of their keyholder. In addition to the power rush, another of the benefits of male chastity is the control itself. This is not for everyone, but many submissives love to be controlled. As a keyholder, you can make your submissive do more chores around the house, run errands for you, or handle any other menial tasks you find distasteful. Failure for the submissive to do so would result in being in their male chastity device for longer periods of time. This gives the submissive a very quick attitude adjustment!
These are a handful of the most predominant benefits of chastity. If you have any questions at all, please reach out to us on our Contact Us page.